On Wednesday I received some
ospiți
(guests) straight from Kansas City. Moldova isn't a typical tourist destination and I don't think most American's even know the country exists so it hasn't surprised me that my friends who said they would come visit haven't made plans. But no worries because I knew that out of all of my friends one would show up for sure- and that friend is Andrew. He majored in Russian history, has visited over 30 countries, and likes to take the road less travelled... so why not Moldova? We began making the plans a couple of months ago and I can't believe he (and his lovely girlfriend, Paula) have already come and gone! The trip was quick but it was full of excitement.
They arrived in Moldova on Tuesday and decided to stay a night in Chisinau before heading to my village. After about 24 hours of traveling from KC to Chisinau and basically no sleep due to a screaming baby on the flight overseas they were incredibly tired so it ended up being a very good idea. They spent the morning walking around the market trying to gather ingredients to make something tasty for my host family. Then they hopped on an afternoon rutiera and made it here in record time- all the while holding on to their britches for dear life. Apparently the driver was driving like a bat out of hell and they got stuck in the very back of the rutiera which is the bumpiest place, but they regardless of his crazy driving, the driver was very friendly and he looked like he had a great story to tell but due to the language barrier they weren't able to hear it.
I met them at the bus stop and then we came back to my house. My host mom had made a delicious dinner of zeama (chicken soup) and placinta (kind of like savory pies). We sat for awhile but got to a point where the jet lag sat in and the were completely full... so by 8:30 they were in bed and passed out.
On Thursday I brought them to school with me to get to talk the the students. Instead of having lessons we ended up having a Q&A session. The first class is my quietest class so it was difficult to get through it, but the other two were great and were firing questions very rapidly. Something I forgot to warn them about, however, is that the question of marriage was probably going to come up. In this culture if you are dating (especially in the mid 20's) then you are going to marry that person. Well, in our culture that isn't exactly the case, and the question of "are you getting married?" can add a lot of pressure. Even though they weren't expecting it they handled it well, along with the questions, "How many famous people have you met in Kansas?" and "What's your favorite music?". After 3 classes, it was time to switch things up so the 10th grade boys invited Andrew to play volleyball with them.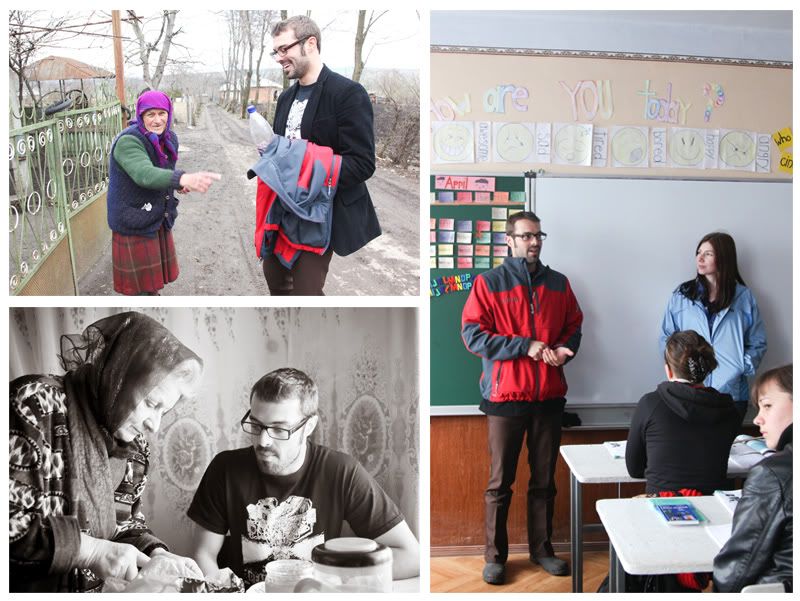 As Andrew said, "it seems like all they do is play volleyball because they are VERY good at it and very aggressive." While I'm not sure if it's the only thing they do in gym class or not, I do know they enjoy it a lot and take it very seriously. Although Andrew doesn't have the experience they do, he still had a lot of fun and they still passed the ball to him and didn't get upset when he missed the ball or hit it straight up to the ceiling (automatic point to the other team).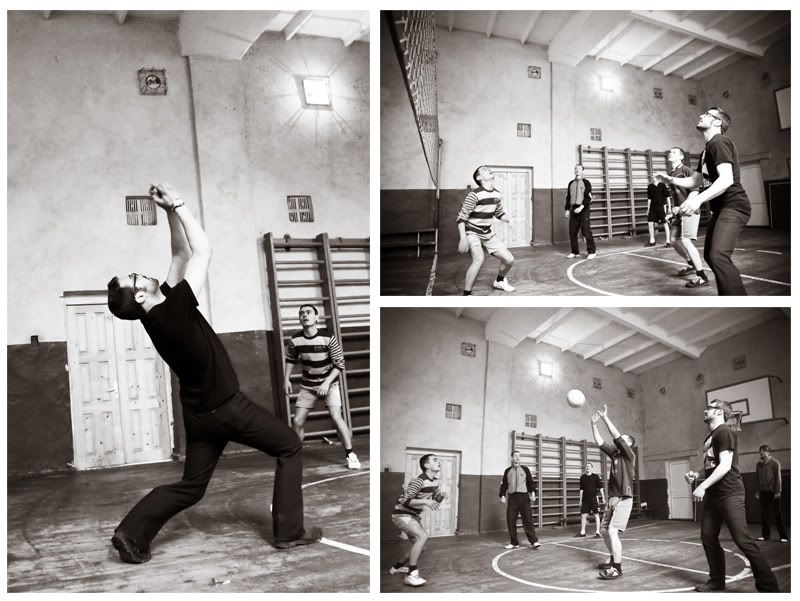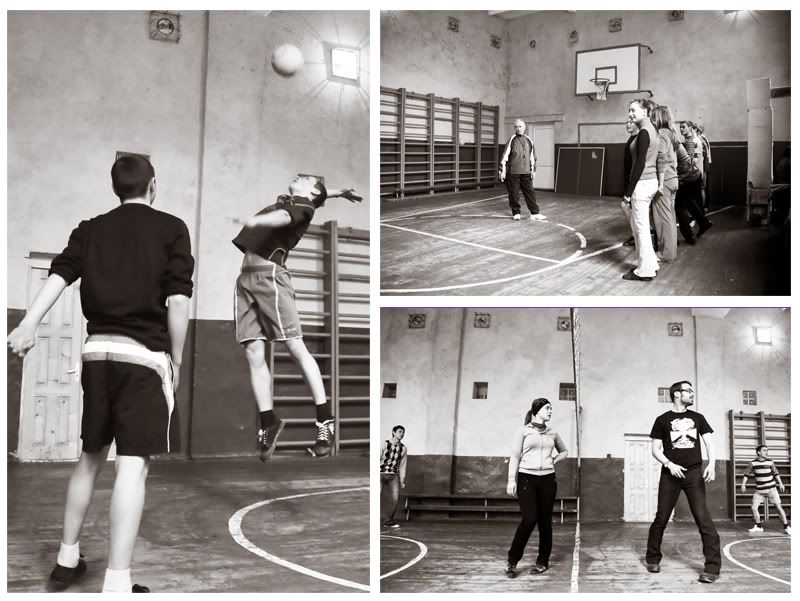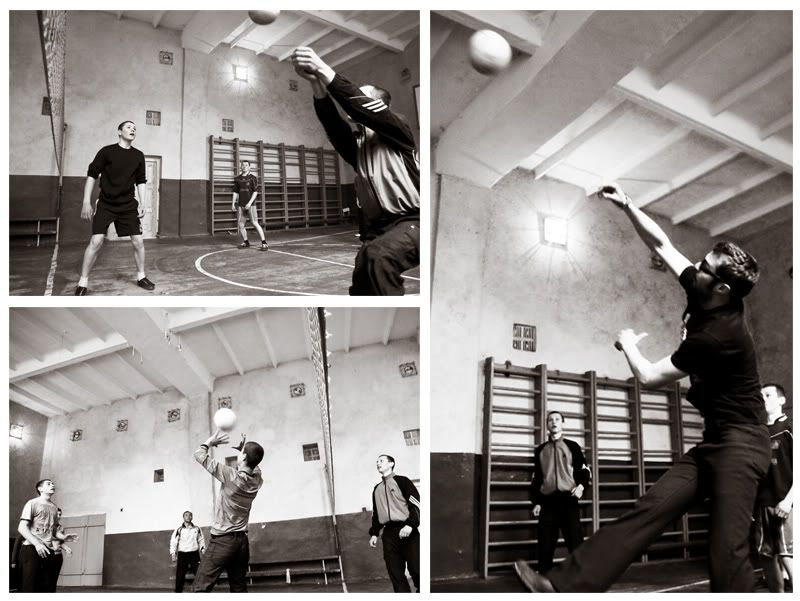 After awhile of volleyball it was time to go meet Maria. We ran in to my host mom's mother on the way there and sat for a few minutes to talk. It's too bad because haven't been able to meet with Maria since
Pavel's death
, so it was good to see her again and she loves having new people to talk to in English. Because of Andrew's Russian history background, he loved the conversation because she is very knowledgable of the past. We toasted to her late husband and enjoyed a glass of wine that he made in his memory. She then told a joke about the word "if". It's a very important word! Watch the video (it's coming!!) to see why!
We then hoped to see a traveling circus that came through town but due to the yucky weather and our sauna reservation at 5pm, we weren't going to make it back to school at 4 to see the circus. But the sauna was amazing! I think we are the first people to have used it in the village because it's brand new and everyone was talking about it at school on Friday- they knew we went and also what time. Oh, gotta love living in a small town!
On Friday Andrew, who is a wonderful cook, decided he wanted to make dinner for my host family to say thank you for hosting them. When he walked around the piata he looked for things that were difficult to find so he could make something they had never had before... and he was right on it with the Alfredo dish. He put me on the Parmesean shredding and my host mom joined me. The cheese here is all pretty soft and fresh- so this whole hard, aged cheese just blew their minds. I don't think my host dad was too keen on it... he just kept asking questions and was so confused. It was funny. But Andrew kept assuring them it was going to be good! When we got it all served up my host dad only took a couple bites and then had enough. My host mom ate more than him, but not much. I'm not sure if they just weren't hungry or they didn't like it. I'm curious if they would have liked it more if they hadn't seen the cheese first...? I know I like chicken... as long as I don't see it first... so maybe it's the same thing. :)
On Saturday we woke up in the morning and hopped on a 9am rutiera- without an idea of where we were going... we just knew we wanted to go somewhere and get back to Chisinau by the evening so they could catch an overnight rutiera to Kiev. I thought it might be fun to visit some volunteers in Soroca, which is a "tourist" spot and there is a fortress, but after talking to the volunteers I realized it was a lot further away than I thought, so we just went straight to Chisinau. It was the first sunny day in over a week so I thought it would be great to take them to my favorite place in Chisinau: the art piata. We walked around, talked to some of the local artists there I like to talk to, and then headed back to Peace Corps so we could get their things together to head out to Kiev.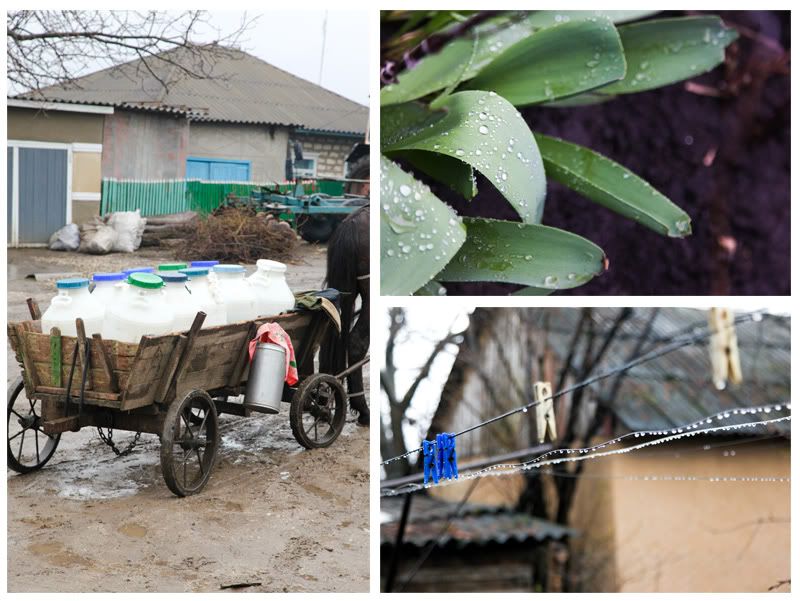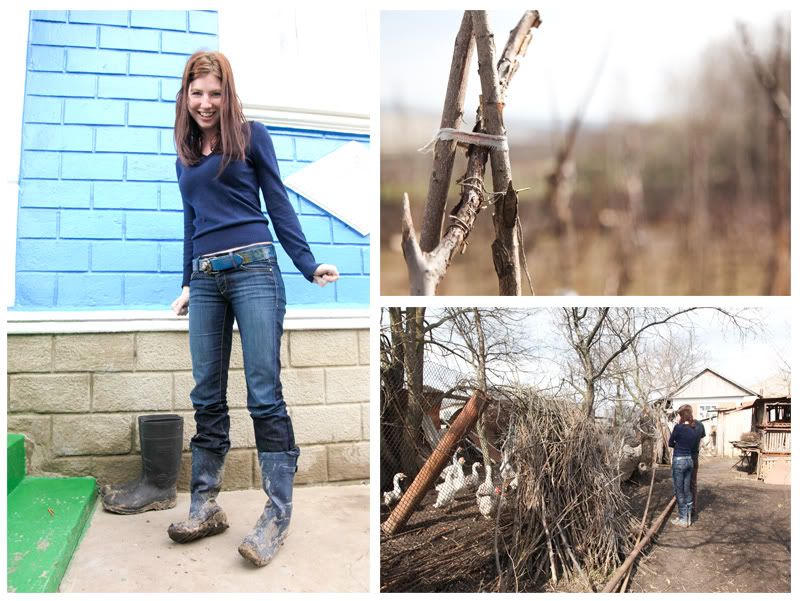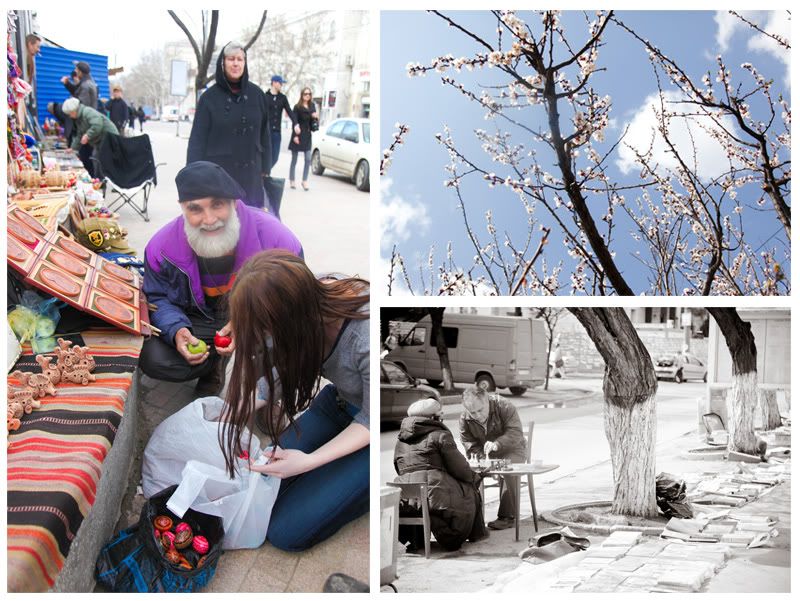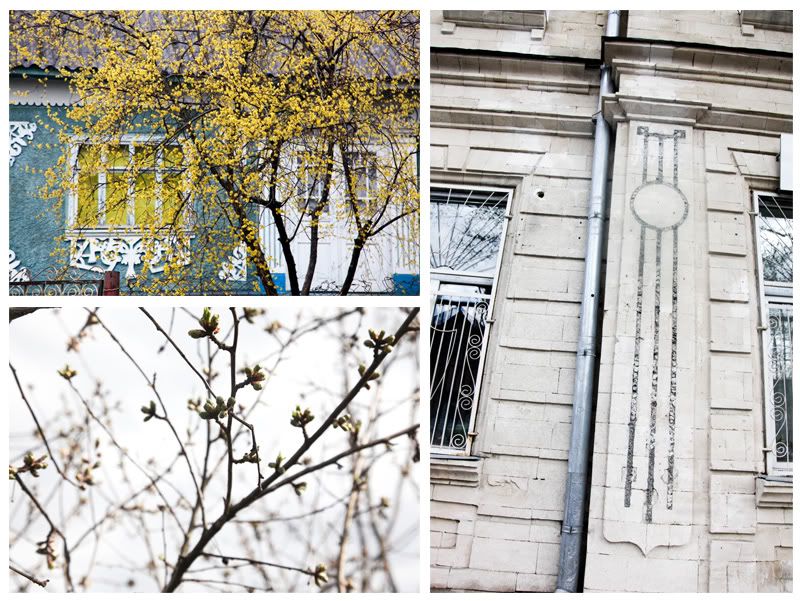 Now they are gone and I am back in my village. It was so great to have a taste of home (literally... with the alfredo and they also brought me peanut butter and cream of tartar and dried cilantro!). I enjoyed watching them experience the every day life that I live here because now it is something I am used to, but it is totally new to them. And certain things I didn't think about because I have adjusted to the culture, Paula just couldn't get. This was her first time out of the country and so it was really funny to observe her. She isn't used to people not speaking English, and she is a very friendly and talkative person. So when we hopped on the rutiera she immediately said, "hello" to everyone as she walked on. I had also told her a story about
Vasile
, and how one day I stopped him and told him, "You are a very hard worker". After that he smiled and kind of chuckled- which was the first time I've ever seen him smile (he usually sounds really upset and mad). So when she was walking in to the house she saw my neighbor who is about the same age and said, in English, "You are a very hard worker". He looked at her like she was crazy, and I cracked up. It turns out she thought he was Vasile, but she also didn't realize I didn't tell him that in English. Hehe. Then, at the market, she had a hard time keeping her hands off of everything. You see, when you're in a market and you touch something, the vendor immediately comes running to you and tries to get you to buy something. She ended up purchasing some things so it was ok, but it was so funny to watch everyone run up to her!
I think what tied the whole trip together, though, was when we saw a woman wearing a Kansas sweatshirt. Rock Chalk!